Hurry over to Sears.com for an amazing deal on patio furniture! For a limited time, the Garden Oasis Harrison 7-Piece Dining Set is on sale for $289.00 (regularly $599.99). Shop Your Way Rewards members receive 5% back in points on this purchase, plus another 1% back in base points.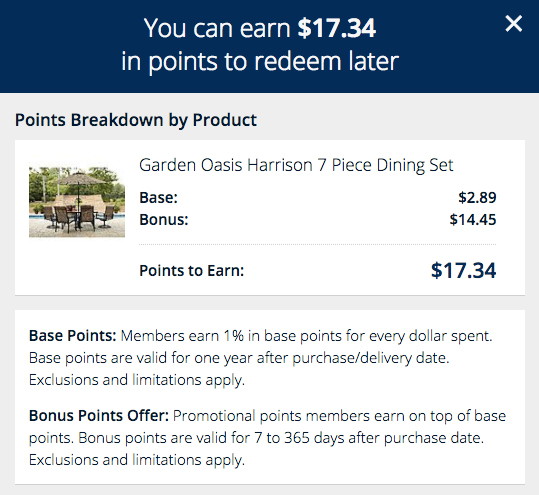 Pay $289.00 out of pocket, get $17.34 back in points, and score this highly-rated set for just $271.66!
Buy 1 Garden Oasis Harrison 7-Piece Dining Set (reg. $599.99) $289.00
Members get 5% in points when they purchase qualifying items at Sears through 3/14 – Points valid 3/15/-3/22 Receive 1% in Shop Your Way Points (Base Points)
Free store pickup or delivery starting at $69.99 Pay $289.00, Receive $17.34 in Shop Your Way Rewards Points Final Price: $271.66
Before placing your order, make sure to visit the Sears Coupon Page for any coupons that may sweeten up the deal!
???? 

Save Money When You Shop!

 ???? 

Get

Cash back

by using TopCashBack! Sign up here for FREE!

*Tip: Open the TopCashBack link a new window, search for the store, select it and it will open in a new window. Once this happens, you can close that window and continue shopping from where you were. Doing this will log that you are shopping through TopCashBack without losing your place!

Like Wine? You`ll LOVE these:
????
Winc
: $20 Off Your First Order ????
Plonk Wine Club
????
Cellars Wine Club
????
The California Wine Club
: Save 50% off your first 3 months! ????
Wine of the Month Club:
 FREE Wine Accessory with Every Gift Membership! ????
Wine Awesomeness
: Subscribe now and get a variety 3 pack of wine every month for only $45 ????
Winecrasher
????
Wine2Go
????
Uncorked Adventures: 
15% Off Wine Clubs