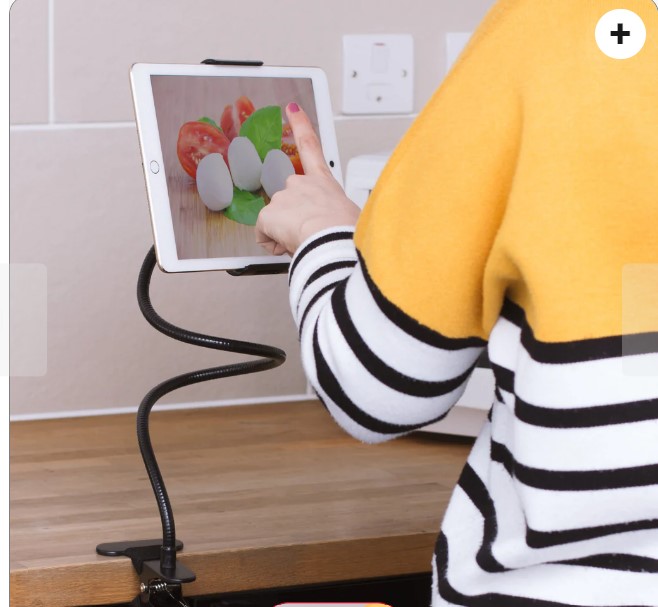 Introducing the
Flexible Gooseneck Mount
for your tablet, the ultimate accessory to enhance your tablet experience. With its funky and functionally designed flexible holder, this mount is here to give you a helping hand in a variety of situations. And the best part? It's now available at an incredible price of only $5.49,
down 72%
from its regular price of $19.95. Plus, it ships for free, making it an even more irresistible deal!
This flexible gooseneck mount is the perfect companion for your tablet. Whether you enjoy watching movies, following recipes in the kitchen, or making video calls, this versatile holder will provide you with the flexibility you need. Its innovative design allows you to clip it onto most surfaces, giving you the freedom to use your tablet wherever you desire.
One of the key features of this mount is its compatibility with most tablets. It can securely hold tablets up to 19cm (7.5 inches) wide, with a maximum weight of 613g. This means you can use it with a wide range of tablet models, making it a versatile and practical accessory for all tablet users.
The mount is incredibly easy to use and install. Simply attach it to the desired surface, whether it's a desk, countertop, bedside table, or even a kitchen cabinet, and adjust the gooseneck to position your tablet at the perfect angle. You'll have a comfortable and hands-free viewing experience, allowing you to enjoy your favorite content without any hassle.
With its flexible gooseneck, you can easily adjust the height, angle, and orientation of your tablet to suit your preferences. Whether you want to watch videos in landscape mode, follow a recipe in portrait mode, or make a video call with the tablet facing you, this mount has got you covered.
The product dimensions of the gooseneck mount are approximately 70cm, providing you with ample length to position your tablet wherever you need it. Its sturdy construction ensures stability and durability, so you can trust that your tablet will be securely held in place.
Upgrade your tablet experience with the Flexible Gooseneck Mount, available now for the unbeatable price of $5.49, reduced from its regular price of $19.95. And don't forget, it ships for free, making it an even more attractive offer.
🌟 If you like Amazon deals & coupon codes join my Telegram Channel (It's FREE!)! 👉 Sign up here!
═════════════════════════════════
PROMOTE YOUR BRAND WITH US!
═════════════════════════════════
Want to showcase your product to the Closet of Free Samples audience? Then check out my available advertising options and email me at

This email address is being protected from spambots. You need JavaScript enabled to view it.

to discuss!
═════════════════════════════════
FOLLOW CFS ON SOCIAL MEDIA
═════════════════════════════════