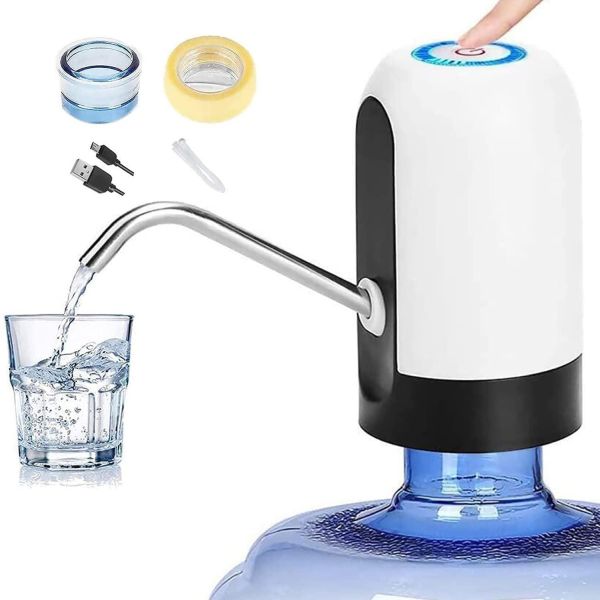 Electric Rechargeable Drinking Water Pump - Want "bottled water" but don't want to buy and throw away countless plastic bottles? This perfect for that! Utilize water jugs without having to have a large water dispenser unit! Good to have at least two so you always have one with a full charge. - Order 3 or more and SHIPPING IS FREE!
Here's a nifty find that you should grab while it's on sale!
High Compatibility: The upgraded 5 gallon water dispenser with 2 food-grade rubber rings, which can be used on 2.16 inches (55 mm) and 1.88 inches (48mm) caliber bottles. Water jug pump can be applied to a variety of gallon barrels without the need to pry the cover. Compatible with 4.5L, 5L, 7.5L, 10L, 11.3L, 15L, and 18.9L bottles.
Safe and Energy Saving: Drinking water pump has food-grade silicone hose, high-density ABS plastic, and 304 stainless steel, cold and high temperature resistance. The built-in silicone seal prevents water from leaking. The water pump for 5 gallon bottle saves space and power compared to the traditional cabinet water dispenser.
USB Rechargeable Battery: Water bottle pump has a built-in rechargeable 1200mAh battery that can be used for 40-60 days at full charge. 4W strong pump to ensure fast water pumping. Can pump around 1.5 liter within 1 minute.
Easy to Use: 4-step install, simply fasten the water jug dispenser on the bottle mouth. One switch operation, press the waterproof LED button and the pumping will stop automatically after 60 seconds. No need to worry about forgetting to turn off the 5 gallon water pump, totally hassle free even for kids and elders.
Easy to Carry: The 5 gallon water bottle pump is lightweight, plug and play, its compact size makes it easy to carry around, ideal for families, offices, trailing, picnics, children's sporting events, beach days and barbecues.
TIP:
Check out these other
water deals
while you are here and save some money!