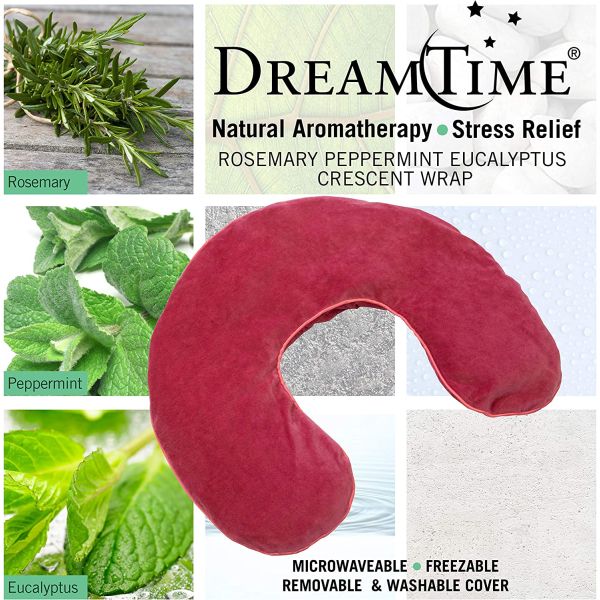 This is a must for relaxing and de-stressing!
This microwaveable shoulder wrap is filled with rosemary, peppermint, and eucalyptus herbs that release delicious, aromatic warmth. Microwave the shoulder wrap and use its heat therapy for herbal stress relief and to soothe sore muscles. Pop the shoulder wrap in the freezer to chill, and let the cold therapy treat sports injuries or just cool you down on a hot summer day. The wrap is designed to conform to the neck, shoulders, and upper back area. It also applies gentle pressure on sore muscles and joints. CARE AND USAGE: Heat Therapy: Place in a clean microwave and heat in 30 second intervals with 30 second standing time in between until desired warmth is achieved. Check temperature before using. Wrap should feel warm, not hot to the touch. Do not exceed 90 seconds total heating time. Do not leave unattended while heating. Cold Therapy: Seal in a plastic bag and place in the freezer overnight. May be left in the freezer until ready for next use. To Wash: Remove the 100% cotton cover and wash with like colors. Lay flat to dry. Do not allow the grain pack to get wet.
AT HOME SPA: Treat yourself to the luxury and comfort of a spa without leaving home. Soothe your senses and help relieve pain from stiffness, inflammation, arthritis, cramps, and muscle fatigue.
THE COMFORT OF A HUG: Melt away tension on any part of your body. The wrap is ideal for use on your back and shoulders, but it is easy to use on any part of your body, including neck, shoulders, upper back, lower back, abdominals, feet, or chest.
NATURAL AROMATHERAPY: This wrap is filled with long-lasting natural plant herbs, so the aromatherapy lasts for years, unlike synthetics and oils that can fade quickly. This Crescent Wrap is filled with rosemary, peppermint, and eucalyptus to promote relaxation and reduce stress.
HEAT OR COLD THERAPY: Relieve tension, soothe pain, and relax. The warmth and comfort of this wrap will relieve tension, alleviate pain and make you feel rejuvenated. For sports injuries or to relieve inflammation, freeze for several hours to allow the cold therapy to soothe your aches.
MATERIALS AND CARE: The soft, luxurious fabric elevates your experience to absolute bliss. The cover is easily removed to be machine washed and laid flat to dry. Do not allow the grain pack to get wet.
BONUS:
Check out these other
aromatherapy deals
currently available while you are here and save some money!
TONS of Limited-Time EXCLUSIVE deals have been posted to my Telegram channel! These deals include limited-time offers, coupon codes, and Amazon deals! It's FREE to join so you don't miss out! 👉 Sign up here!
═════════════════════════════════
PROMOTE YOUR BRAND WITH US!
═════════════════════════════════
Want to showcase your product to the Closet of Free Samples audience? Then check out my available advertising options and email me at

This email address is being protected from spambots. You need JavaScript enabled to view it.

to discuss!
═════════════════════════════════
FOLLOW CFS ON SOCIAL MEDIA
═════════════════════════════════