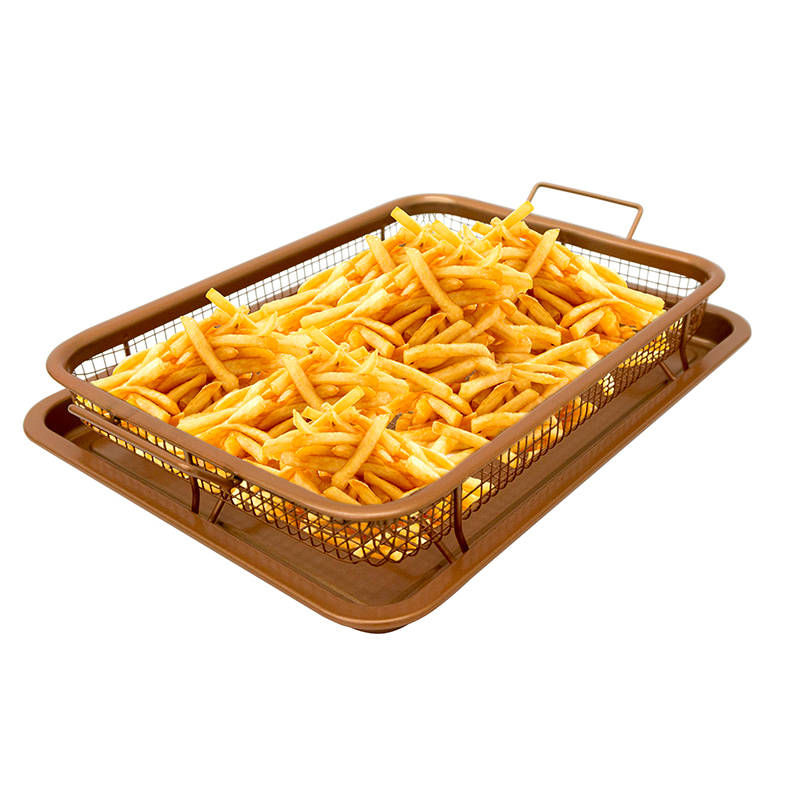 Selling for $20 (+ tax) at Bed, Bath, and Beyond!
Now you can
easily crisp anything
from veggies to french fries with the
Nonstick Copper Crisper Tray
. Perfect for all of your crisping tasks, this tray is features a nonstick surface for added convenience. Complete with a crumb tray for less mess to clean up!
Product Features
Copper Crisper Tray
Turn your oven into an air fryer
Heat circulates around food
No oil or butter needed
No turning and no burning
Less fat & calories
Food cooks evenly on all sides
Ceramic Coated Nonstick Basket Allows Air to Circulate Around Food
Oven safe
Dishwasher safe
Two piece set:
Basket size: 12 x 9"
Tray size: 13 x 10"
Get Cash back on this purchase by using TopCashBack! Sign up here for FREE!
Tip: Open the TopCashBack link a new window, search for the store, select it and it will open in a new window. Once this happens, you can close that window and continue shopping from where you were. Doing this will log that you are shopping through TopCashBack without losing your place!
Want to Save EVEN More Money? Try these out:
Honey, 
DealSpotr
, 
Coupon Surfer, Checkout 51, SaveAround Coupon Books, 100BigCoupons.com, Mr. Rebates, and eBates

LOOKING FOR A GOOD DEAL ON WINE? CHECK THESE:
????
Winc
: $20 Off Your First Order
????
Plonk Wine Club
????
Cellars Wine Club
????
The California Wine Club
: Save 50% off your first 3 months!
????
Wine of the Month Club:
 FREE Wine Accessory with Every Gift Membership!
????
Wine Awesomeness
: Subscribe now and get a variety 3 pack of wine every month for only $45
????
Winecrasher
????
Wine2Go
????
Uncorked Adventures: 
15% Off Wine Clubs