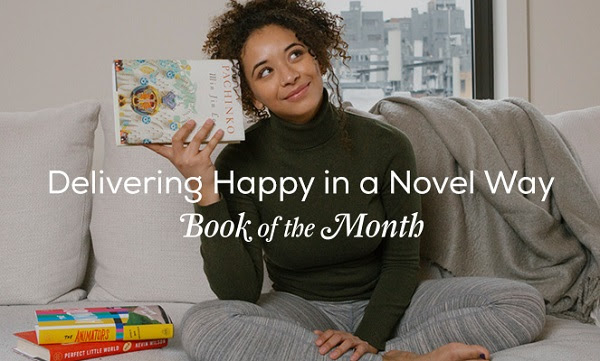 Book of the Month
`s February selections are here! We are very excited to have Bustle Books Editor Cristina Arreola as a judge this month and her selection is
Behind Her Eyes
, a domestic suspense novel by Sarah Pinborough. Cynthia Sweeney, author of 2016 best-seller
The Nest
, is returning as a judge this month with her selection
The Animators
by Kayla Rae Whitaker.
February`s List of Book Selections ? Behind Her Eyes by Sarah Pinborough - Judge: Cristina Arreola (Bustle Books Editor) ? The Animators by Kayla Rae Whitaker - Judge: Cynthia Sweeney (Author of The Nest) ? The Possessions by Sara Flannery Murphy - Judge: Liberty Hardy ? Perfect Little World by Kevin Wilson - Judge: Maris Kreizman ? Pachinko by Min Jin Lee - Judge: Alexander Chee
Special February Book of the Month Add-On Lolly Willowes by Sylvia Townsend Warner In April of 1926, a fledgling Book of the Month Club announced its first ever selection, Lolly Willowes. Written by debut author Sylvia Townsend Warner, the novel tells the story of an unmarried woman who refuses to live the life that her family and society expects her to live. A bold and beguiling story about personal freedom, uneasy friendships, and witchcraft, Lolly Willowes was selected despite the fact that its author was completely unknown at the time. Check out all of the add-on books here: BOTM Other Favorites
February Promotions ? 1-month membership for $5 ? 3-months membership for $9.99 per month + free BOTM tote

Like Wine? You`ll LOVE these:
????
Winc
: $20 Off Your First Order ????
Plonk Wine Club
????
Cellars Wine Club
????
The California Wine Club
: Save 50% off your first 3 months! ????
Wine of the Month Club:
 FREE Wine Accessory with Every Gift Membership! ????
Wine Awesomeness
: Subscribe now and get a variety 3 pack of wine every month for only $45 ????
Winecrasher
????
Wine2Go
????
Uncorked Adventures: 
15% Off Wine Clubs