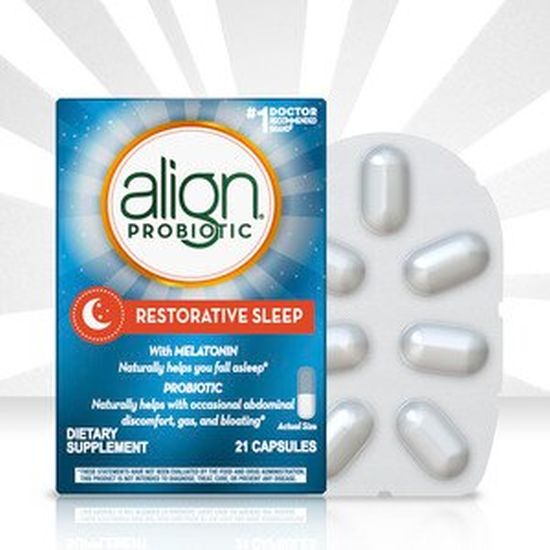 Align Restorative Sleep Probiotic and Melatonin - Helps digestion while at the same time helping you sleep! - $30 at CVS (see additional photo), just $7.49 from us! Order 3 or more and SHIPPING IS FREE!
This is a great buy you don't want to miss out on!
Grab the Align Restorative Sleep Probiotic and Melatonin for just $7.49 on sale. That's a
75% discount
off the regular price of $29.99!
Align Restorative Sleep Probiotic and Melatonin Supplement - Digestive Health for Men And Women, 21 Probiotic Plus Melatonin Sleep Aid Capsules
21 Count
Changes in your diet, travel, or stress may disrupt both your sleep and natural digestive balance of good gut bacteria. Studies have shown that when you can't sleep, your occasional digestive upsets can get worse. Align Restorative Sleep delivers a unique blend of the natural probiotic strain, Bifidobacterium 35624™, and an optimal dose of non-habit-forming melatonin.* When taken nightly, Align Restorative Sleep supports your natural sleep cycle while fortifying your digestive system with healthy bacteria 24/7
Ingredients
Bifidobacterium Longum Subsp. Longum 35624†20 mg†† Other Ingredients: Microcrystalline Cellulose, Hypromellose, Less Than 2% of: Magnesium Stearate, Blue 1, Black Iron Oxide (Color), Red Iron Oxide (Color) † Contains 1 x 109 (one billion) live probiotic cells/ CFU when manufactured, and provides an effective level of probiotic cells (1 x 107 CFU) until at least the "best by" date.
Directions
Take one capsule 30 minutes before bedtime. For best results, use nightly and allow more than 6 hours of sleep. Store below 77°F (25°C) in the original blister package.