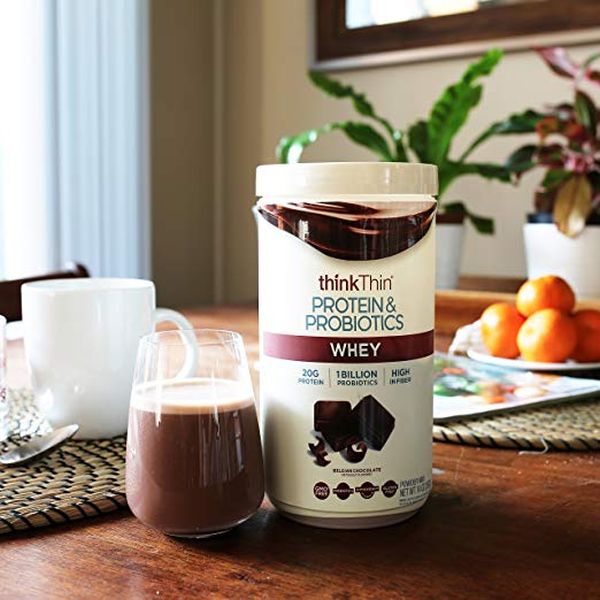 thinkThin Protein & Probiotics Whey Powder - Belgian Chocolate - 14oz - Get your protein and probiotics at the same time! Jump start your healthy new year! Very low in sugar and promotes overall health! This high grade protein is $15 EACH at Amazon, Target and more! Order 6 or more for just $5.99 each! This is good through May 2019, so stock up! - UNLIMITED FREE SHIPPING!
Protein helps fuel a full, energetic life. And good nutrition should always be delicious. That's why thinkThin products are packed with protein and come in a variety of decadent flavors.
Product Features
20 GRAMS PROTEIN: Excellent source of protein to help muscles recover and grow after exercise
1 BILLION PROBIOTICS: Bacillus Coagulans, live probiotics, helps overall wellness
5 GRAMS FIBER: Excellent source of fiber that helps you feel fuller longer
2 GRAMS SUGAR: Sweetened with stevia extract and monk fruit - free from artificial sweeteners
PREBIOTICS: Nutrients for the probiotics
PREMIUM INGREDIENTS: Rich European cocoa, natural Belgian chocolate flavor, Greek yogurt powder, and antioxidant Vitamin A
GMO FREE, GLUTEN FREE, NO SOY INGREDIENTS
Best By May 2019
Have you tried Espira? Espira is the only line of supplements you'll find that focuses on supporting your natural energy by taking all of your lifestyle needs into consideration.