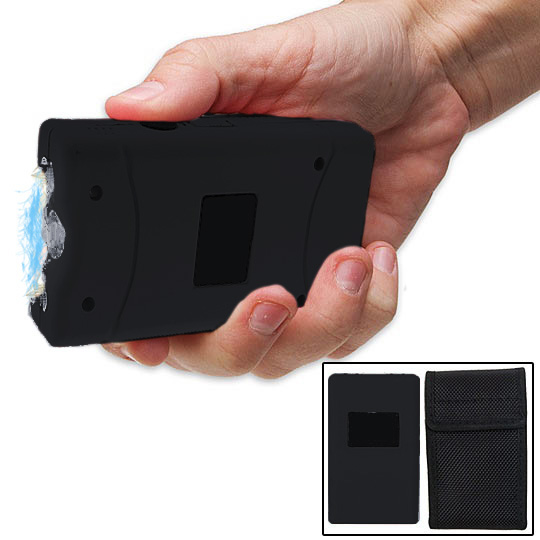 Just test firing this unit into the air is often enough to stop an attacker. As the bright electric current pulsates between the test prongs and creates an intimidating electrical sound an attacker with any sense at all will be stopped in his tracks. If the sight and sound doesn`t stop him a jolt from this stun gun certainly will bring an attacker down in just 2 seconds! When an attacker is touched by the stun gun it will disrupt the message the brain sends to the voluntary muscles. Simply touching an attacker will
deliver a high voltage shock
causing loss of balance and muscle control, confusion, and disorientation bringing him to his knees and making him incapable of further aggressive activity. The built in Wall charger recharges the internal rechargeable battery so you`re always ready for action. Included is a nylon pouch w/ belt loop. This unit delivers a 3 million volt (3000k) shock to the attacker. Also included is an LED light with a separate on/off button.
Product Features:
Compact Size (2" x 7/8" x 4")
Internal Rechargeable Battery
Non-Slip Rubber Grip
Built in plug in
LED light
???? 

Save Money When You Shop!

 ???? 

Get

Cash back

by using TopCashBack! Sign up here for FREE!

*Tip: Open the TopCashBack link a new window, search for the store, select it and it will open in a new window. Once this happens, you can close that window and continue shopping from where you were. Doing this will log that you are shopping through TopCashBack without losing your place!