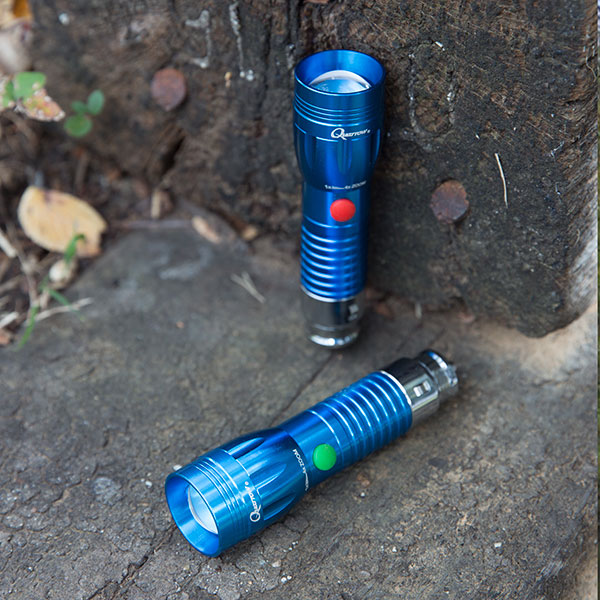 Quarrow Dual Color Rechargeable Light - Dual Light Colors - Green & White OR Red & White Available - Great For Fishing, Hunting and Other Night Sports!
Green light not only preserves your night vision, but research shows that green light is the least recognized by most wildlife. Use the green mode to navigate to your hunting blind. Green light also reflects less on water than white light, making it useful in fishing applications.
The red light protects night vision making it useful to pilots for preflight checks. Red light is also not noticed by most wildlife, so use it to navigate to your hunting blind without animals taking notice.
This light charges in ANY 12V power outlet (cigarette lighter.) There's nothing greater than having a compact bright light that is always charged to have with you everywhere you go. Just turn the bezel to adjust the 4x zoom to change from floodlight to spotlight. The LED will also glow red when the light is plugged in so you know it is charging.
LIGHT
LIGHT MODES
White: 50 Lumens (3 Hours / 50 Meters)
Green: 25 Lumens (4 Hours / 40 Meters)
Green Strobe: 25 Lumens (12 Hours / 40 Meters)
DESIGN
4x adjustable zoom
Anodized aircraft-grade aluminum
Water and impact-resistant
Recharging indicator
12V spring base
Convex lens
OPERATION
Side-positioned ON/OFF button
BATTERIES
Ni-MH rechargeable battery (included)
Product Features
Comes in assorted colors
Flexible, heavy-duty steel cable provides optimal security for your bicycle
Weather-resistant constructions stands up to the elements
Rotating, easy-to-read letter dials with a mix of vowels and consonants provide up to 10,000 possible combinations
Easy to set and reset
Measures 5ft long and is 8mm in diameter