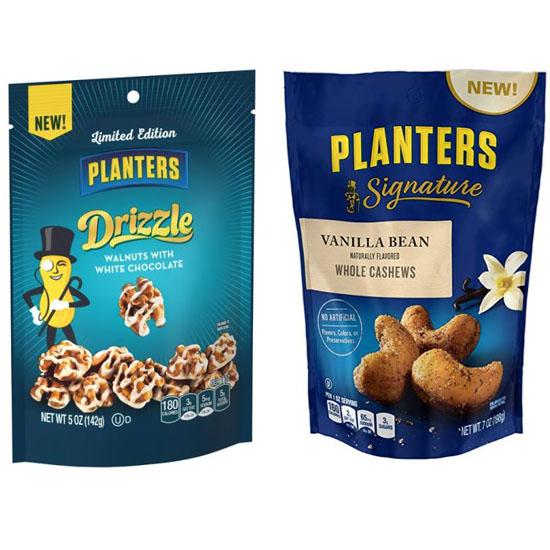 8 Bags of Planters Premium Nuts - Choose Between Vanilla Bean Whole Cashews OR White Chocolate Drizzled Walnuts - These are $7.99 PER BAG in stores, but you're getting EIGHT bags for $29.99, only $3.75 per bag! - SHIPS FREE!
Enjoy delicious white chocolate delicately drizzled on freshly roasted walnuts. This indulgent treat offers the touch of sweetness you love without overpowering the natural walnut flavor. In a 5 oz resealable bag, Planters Drizzle is the perfect sweet and salty snack to share amongst friends and family. Makes for a great gift during the holiday season.
Planters Signature Vanilla Bean Whole Cashews are a naturally flavored treat with a sweet twist. These crunchy roasted-to-perfection cashews feature that familiar buttery flavor you crave, while a classic vanilla flavor keeps you coming back for more. They're sprinkled with a touch of sea salt to balance the sweetness and enhance your snacking experience. Eat these roasted nuts by the handful without guilt, since they're made without artificial flavors, colors or preservatives. Each serving has 5 grams of protein and 160 calories to help provide the energy you need to get through the day. These whole cashews offer a good source of six essential nutrients, including copper, magnesium, manganese, zinc, iron, niacin and phosphorus. A resealable 7 oz. pouch ensure freshness and helps prevent spills.
One 7 oz. pouch of Planters Signature Vanilla Bean Whole Cashews
Planters Signature Vanilla Bean Whole Cashews are a new addition to the Planters Signature series
Resealable pouch helps lock in freshness
Whole cashews with the sweet and aromatic flavor of classic vanilla
Each nut is roasted to perfection and enhanced with a hint of sea salt
8 Bags