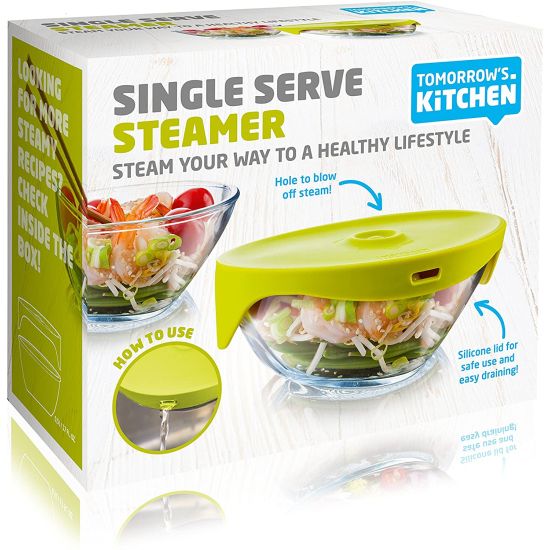 This is a handy kitchen must-have!
The Award-Winning Tomorrow's Kitchen
Single Serve Steamer
allows you to cook a quick, healthy and flavorful meal in the microwave in minutes! Simply add your ingredients to the Single Serve Steamer, seal with the specially-designed silicone lid, and pop in the microwave. No added oils or fats required. The design of the Single Serve Steamer allows for quick and even cooking of your dish and prevents flavor and moisture from escaping.
How does it work? A small vent at the top of the silicone lid allows a small amount of steam to escape from the steamer, preventing too much pressure from building up and keeping the maximum amount of moisture in your food. Some vegetable release a lot of moisture when steamed. Pour any excess moisture out of the container from a small drain that pops up on the lip of the lid. Tabs on the silicone lid allow you to safely pick up the container from the microwave without having to touch the potentially hot, glass container.
The Single Serve Steamer's unique design allows you to fit up to 3 Steamer's in your microwave. Cook healthy meals for the entire family. Because the Single Serve Steamer is air-tight when closed, you can also store your leftovers inside!
Safely steam flavorful fish, chicken, meat, and veggies in minutes
Sturdy borosilicate glass stands
No need to add oil or butter - food is steamed with moisture from the food and marinades
Winner of the 2017 Red Dot Design Award
Dishwasher Safe
Psst...

I frequently post exclusive deals and coupons on my

Twitter Page

.

Be sure to follow so you don't miss out!