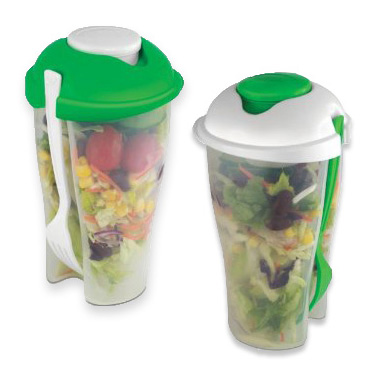 These containers
are the ultimate way to pack a salad and a great way to start eating healthy, inexpensive lunches! Just place your salad in the stay fresh container and your salad dressing in the 2oz capsule that neatly tucks into the lid of the main container and you have everything you need to eat fresh, healthy salad wherever you are! There is even a fork included that tucks neatly into a holder on the side!
Product Details
2 Pack - You will receive 2 complete Salad To Go Container sets!
Keeps salads & fruits fresh, cool and crisp
Easy-grab & ergonomic design
2oz capsule for holding dressing, dips and more!
Comes with fork that neatly tucks into the container!
Yours will arrive randomly in either color scheme
Get Cash back on this purchase by using TopCashBack! Sign up here for FREE!
Tip: Open the TopCashBack link a new window, search for the store, select it and it will open in a new window. Once this happens, you can close that window and continue shopping from where you were. Doing this will log that you are shopping through TopCashBack without losing your place!
Want to Save EVEN More Money? Try these out:
Honey, 
DealSpotr
, 
Coupon Surfer, Checkout 51, SaveAround Coupon Books, 100BigCoupons.com, Mr. Rebates, and eBates
L
ove Tea? Don`t miss out on these: American Tea Room | Art of Tea Matcha Products | Golden Moon Tea | California Tea House | Eat Green Tea | Generation Tea | TeaBox | LoseIT Tea | Matcha Source | The Teabook | Zest Tea | Skinny 23 | Weight Loss Fasted LLC | TeaMi Weight Loss Tea