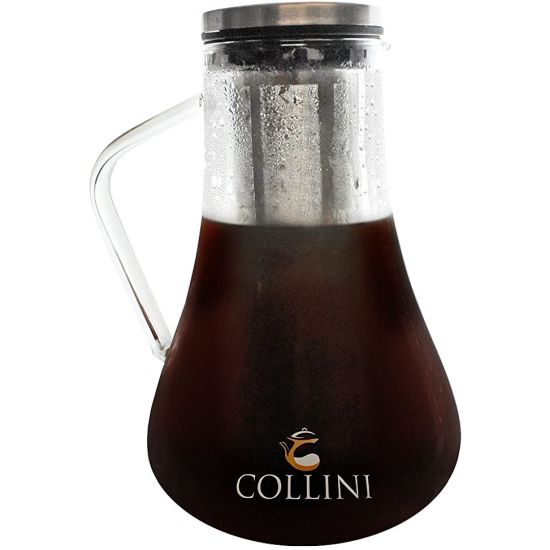 SECRET DEAL - Collini Airtight Cold Brew Iced Coffee Maker (and Tea Infuser) - Forget overpaying for store-bought, delivery or Starbucks! Make your very own cold brew coffee (or tea) at home with this VERY nice Collini Cold Brew Pitcher and save a TON having your coffee any flavor or strength YOU want! These pitchers are $40 and up at Bed Bath and Beyond! Just $14.99 for SECRET DEAL folks like yourself! - Also makes a GREAT gift for the coffee and tea drinkers in your life :) Limit 3 per customer please, but if you order 3, SHIPPING IS FREE!!!
Collini Cold Brew Maker
Cold brewing
causes less oxidation making coffee less acidic and smoother in taste than traditional hot brewing. This provides you with a purer, healthier coffee concentrate.
Designed for the ultimate cold-brewing experience, our dishwasher-safe, BPA-free Collini
Cold Brewer
locks freshness and flavor for up to 2 weeks within durable borosilicate glass for maximum temperature stability. Flexible for brewing hot or cold, tea or coffee, within a sleek design engineered to fit perfectly in your fridge.
What Makes COLLINI Different
1. BPA - Free Silicone makes true air-tight seal to ensure fresheness for up to TWO weeks and keep out any stray odors from the fridge.
2. 18/8 stainless steel ultra fine filter. We sought the finest filter on the market to ensure a grind free brew.
3. Every aspect of the COLLINI cold brewer is dishwasher safe.
4. Easy pour handle and spout for the perfect pour every time.
5. Designed to fit perfectly in your fridge door or on your fridge shelf.