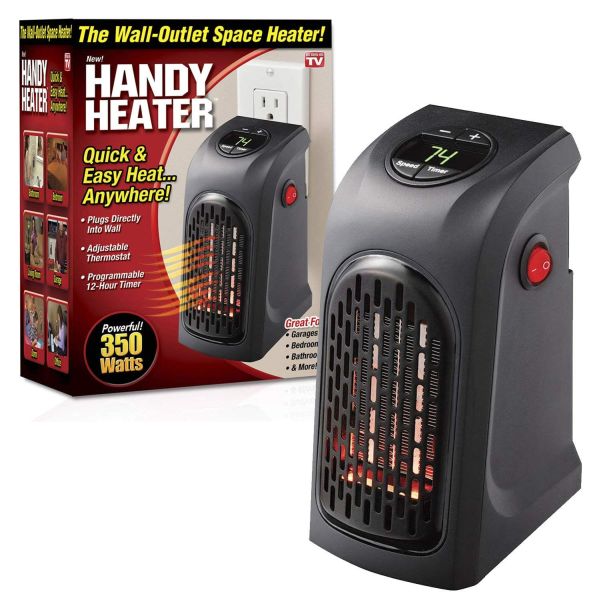 Mini Handy Plug-in Heater - Heat the spaces you want to heat without having to heat the whole house! Plugs DIRECTLY into the wall so it doesn't take up space or create a tripping hazard! For those of us that get cold all year long!
Introducing handy heater the wall-outlet space heater! other
space heaters
are big and bulky and can raise your heating Bill! The handy heater is the whole room space heater that plugs right into the wall and takes up no space at all! handy Heater's thermo-ceramic design makes it small but powerful.
Handy Heater
350 watt power warms up to 250 sq. Ft. Of warm comforting heat! transform any cold and chilly place into a warm and cozy place! perfect for any room in your home! great for dens, reading nooks, work, dorm rooms, offices, home offices, campers, workspaces, benches, basements, garages & more! simply plug the handy heater into any Outlet, set the digital control to your ideal temperature and feel your room get toasty warm! you can even keep your spot warm with the automatic timer! perfect for chilly areas that have drafty windows and doors! compact design makes it easy for travel, so you can enjoy warmth & comfort wherever you like to relax.
Product Features
Plugs directly into any wall outlet
Digital temperature display adjustable thermostat
Programmable 12-hour timer
Housing stays cool to the touch
This item comes in mail order packaging.