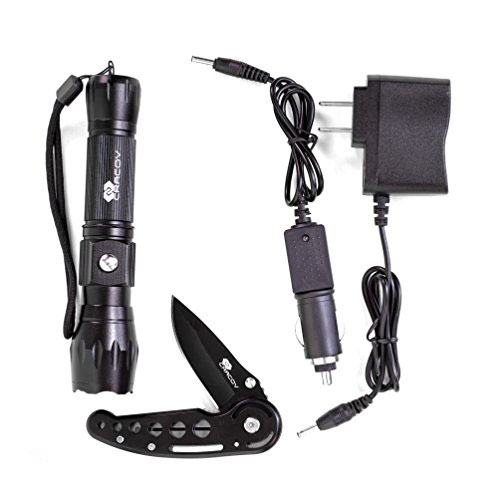 Tactical Flashlight & Knife Set - High Output Tactical Rechargeable 300 Lumen Adjustable Focus LED Flashlight with Hard Case, AC and DC Chargers AND Pocket Knife- Currently $35 on amazon! Order 6 or more for only $11.99 each! Limit 12 Per Customer - Makes a GREAT Gift! SHIPS FREE!
Have you ever found yourself in a situation where you needed a bright light, but without all the bulkiness of those overbearing flashlights? Have you ever been in a tight situation where you needed a compact flashlight that was easy to adjust the brightness and intensity? Do you recall the times of growing up and being entrusted with your first well-made Well, look no further than the Premium Tactical Flashlight Kit by Cracov! With this tactical kit, you'll:
Walk in the light with this high powered, 5 variation tactical flashlight. There are three variations of brightness, one strobe light, and one SOS light. Also included is a handy USB cord and charging cube to allow you to charge it the good ole fashioned way. At a max length of 6", this tactical light packs quite the punch!
Well crafted with the highest quality materials. Compact under 4" in the closed position and just over 6" in the open position. Don't be fooled by its size;
LOVE the accessories including both an AC adapter and a car charger. Additionally, the handy compact case will keep your kit in one safe place!
Product Features
High-quality tactical flashlight bundled with folding knife, AC wall charger and 12V car charger
All items contained in a durable plastic hard case
Flashlight is high powered 300 lumen and has S.O.S and normal strobe
Included lithium battery charged with included AC wall charger or 12V car charger
Includes bonus high quality folding knife