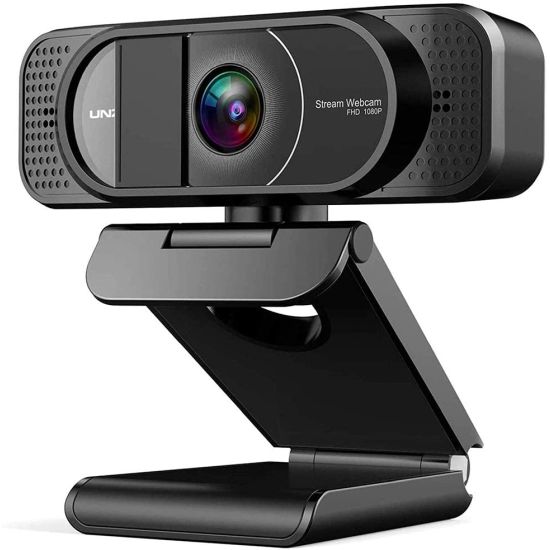 1080P HD Webcam With Microphone. Wide Angle Lens and Privacy Cover (so people can't remotely activate your webcam and spy on you. Yup, that's real thing. Crazy huh?) - Currently $46 on amazon with hundreds of 5 star reviews (see additional image)! But only $19.99 from us! $1.49 shipping, but order 2 or more and SHIPPING IS FREE!
Need a webcam? Take advantage of this deal!
1080P HD Webcam with Microphone and Privacy Cover, Auto-Focus Web Camera 98° Wide Angle Webcam for Computer Zoom, Skype, Teams, Conferencing and Video Calling
Full HD Webcam with Cover: Unzano computer camera with privacy cover, protecting your privacy effectively when you are not in use, prevent potential hackers to spy on you, allows you to easily enjoy safe digital web cam life. It also helps to protect the webcam lens from dirt and debris.
Webcam with Microphone: Build-in digital stereo dual microphone with automatic noise reduction, reduce annoying background noise and capture natural and clear stereo audio clearly within 3-5 meters coverage, makes your sound clearer. Adjustable clips made it easy to mount both laptops and external monitors. Just show you the best side on every video call, wherever you are.
Webcam for Streaming: Full high definition 1080P web camera, 30 frames per second refresh rate, with 5+1TR element optical glass lens, 98 Degree field of view is wide enough to show more people in the camera at the same time, autofocus, no optical distortion, Facial enhancement, and high-definition lens technology make your video chat more confident, automatically optimizes the image, makes it easier to capture every detail of the face, so you can look better in your videos.
Advanced H.264 Encoding Compression: To minimize its dependence on computer and network resources, enables faster uploads and impressive live streaming on social media and gaming such as Skype, YouTube, Facebook, Facetime, Xbox One, OBS, Twitch, Messenger, Hangouts, Xsplit, Mixer, Video Chat, Zoom and more.
Designed for All Operation System, Hassle-free setup: No driver/software updates required, the computer cameras webcam works with all video conferencing software applications virtually, so you can quickly set up in minutes and run every meeting. Certificated compatible with Windows XP SP2/7/8/10 and above, Mac OS 10.6 and above, Chrome OS V29.0.1547.70 or above, Smart TV Android 5.0 or higher version, Linux 2.6.24 or above, ubuntu V 10.04 or above.
System Requirements
Windows XP, 7, 8, 10 or above; Mac OS 10.6 or above; Google Chrome OS 29.0.1547.70 or above; Android V 5.0 or above; Smart TV, and TV BOX (with OTG function); Linux 10.04 or above; Xbox One, OBS, Facebook, YouTube, Xsplit, Skype, etc
Product Specification
Video Resolution – Full HD 1080P/30fps
Viewing Angle – 98-degree wide angle, no optical distortion
Lens – Full HD standard 5+1IR double-sided element optical glass lens for clearer imaging
Aperture -F/N2.1
Focus Type – Fixed-focus
Focal Length – 70mm to infinity
USB Port – USB2.0 or USB3.0
Adjustable clip base – Easily setup to any laptop, LCD monitor, desktop or tripod.