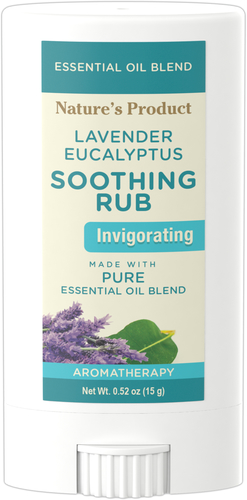 This is a fantastic price and is new to Piping Rock!
Ingredients:
Sunflower Seed Wax, Coconut Oil, Sweet Almond Oil, Shea Butter, Sunflower Seed
Oil, Organic Olive Oil, Camphor Powder, Lavender Oil, Beeswax, Menthol Crystals, Eucalyptus Oil, Cetearyl Alcohol, Cetearyl Glucoside, Thyme Oil, Fir Needle Oil, Organic Tea Tree Oil, Natural Rosemary Extract, Sage Extract.
Directions:
Simply massage Lavender
Eucalyptus Soothing Rub
onto the neck, chest, or other areas of the body and breathe in the aroma and vapors that are released into the air. Refreshing and cooling eucalyptus oil mixed with rejuvenating lavender oil makes for the perfect combination of essential oils to stimulate the senses.