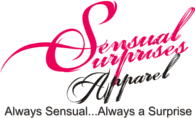 Sensual Surprises Apparel believes the desire to feel and look attractive is a natural part of who we all are. They also believe that everyone has the ability to look sexy, which is the reason they have apparel and accessories for women and men in various sizes to flatter all body shapes and compliment different personalities. From special occasions to the everyday, Sensual Surprises Apparel has a wide variety of intimates, swimwear, dresses and accessories to suit various personality styles and body types. With over 5,000 items in their online boutique it`s easy to find something to help you feel sensual from the inside out.
Sensual Surprises began specializing in sales of lingerie and leather lingerie. After listening to their customer`s needs about wanting a wide variety of fashionable clothing to fit their body shape and personality style, their apparel and accessory selection has grown by the thousands. They have a selection of evening gowns that range from elegant to seductive, cocktail dresses that are charming or daring, swimsuits that are sporty or bold and even heavenly or mysterious costumes. Many of their manufacturers feature high quality hand-made dresses, shoes and boots and some even allow customizations to make that item uniquely yours. In addition, all American made products proudly display "Made In USA".
Whether you desire to be stunning or suggestive, provocative or passionate, dainty or daring, they have the collection to help women and men of all ages feel fabulous.
Venture inside their sensual online boutique and see how their collections of apparel will make you feel youthful, vibrant and sexy too.
Help Sensual Surprises spread the word about their new site and receive a free women`s thong panty. No purchase required. A $15.00 value.
Simply choose 1 of 3 ways to claim yours:
1. "Like" them on Facebook and mention your favorite item https://www.facebook.com/pages/Sensual-Surprises-Apparel-Inc/121853787835898?ref=hl
2. Follow them on Pinterest and re-pin ten of your favorite items from SensualSurprises.com https://pinterest.com/ssapparelinc/
3. Follow them on Twitter and tweet about an item mentioning SensualSurprises.com https://twitter.com/SSurprises
Finally contact them with your shipping address and your social media information and they will send out your free panty. There is no purchase that is required and shipping is paid for by them. Also you don`t need to be a customer of SensualSurprises.com and they will never email you without your consent nor will they share your personal information. SensualSurprises.com respects your privacy. Feel free to contact them at This email address is being protected from spambots. You need JavaScript enabled to view it. at any time with questions.
This offer is only valid for residents of:
https://www.sensualsurprises.com/Sensual-Surprises-Apparel-Discounts-Coupon-Codes