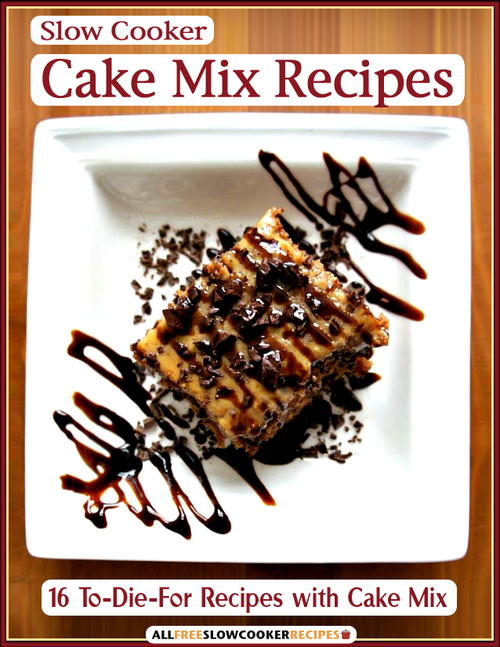 Learn how to make a variety of slow cooker dessert recipes using cake mix with our 16 To-Die-For Slow Cooker Cake Mix Recipes Free eCookbook. In this free collection, you'll find delicious slow cooker cake mix recipes you'll be happy to have on hand.
Slow Cooker cake mix recipes come in many forms, and we've got a fun selection! In our free eCookbook, you'll find different plays on classic recipes with cake mix and pie filling, including
slow cooker cobbler with cake mix
, slow cooker cake recipes for dump cake, and more.
Whether you're planning a birthday party or you want to make a slow cooker cake for another special occasion, these
slow cooker recipes
with cake mix will be the perfect sweet addition. Using cake mix, as opposed to baking from scratch, makes your life easier, and ensures you can create a dessert on the fly, without rummaging through your pantry for every last dry ingredient. Many of the dry ingredients you'll need are already provided for you. Your homemade cakes will taste like they're made from scratch, even if you cut corners with preparation time. Not to mention, you can leave your cake unattended for a longer period of time while it's cooking in your slow cooker.
NOTE: This item is absolutely free, but please note that Closet of Free Samples does not ship out freebies and free samples! Also, Closetsamples.com does not offer free stuff or free samples for sale. Follow the instructions provided above to request the listed freebies. If you need to contact a specific merchant, please follow the link to that merchant's own website.
Visit Closet of Free Samples website every day for more new freebies and deals.
LOOKING FOR A GOOD DEAL ON WINE? CHECK THESE:
🍾 Plonk Wine Club
🍾 Cellars Wine Club
🍾 The California Wine Club: Save 50% off your first 3 months!
🍾 Wine of the Month Club: FREE Wine Accessory with Every Gift Membership!
🍾 Wine2Go
🍾 Uncorked Adventures: 15% Off Wine Clubs