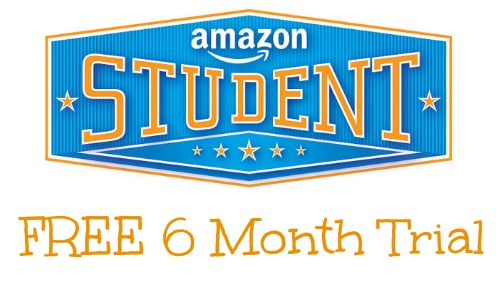 From cost-saving, flexible rental programs for
Textbooks
and
eTextbooks
that can help students save money, space and time, to
Amazon Student
, the 50% discounted version of Amazon Prime, which gives students free two-day shipping, exclusive deals, unlimited instant streaming with Prime Instant Video and Prime Music and more, Amazon aims to make that summer to class transition a bit easier this year.
Amazon Student – Too tired or busy to go pick up those ramen packets, textbooks and dorm essentials?, Amazon Student offers free two-day shipping on millions of items + exclusive deals and promotions, unlimited instant streaming of 40,000 movies and TV shows with Prime Instant Video and more than a million songs and hundreds of playlists with Prime Music and free unlimited photo storage with Prime Photos.

Students can sign up for a 6-month free trial, after that it's a 50% discount off Amazon Prime.

eTextbooks & Studying Made Easier– With options to rent, buy or try for free (up to 80% off print list for rentals between 30 to 360 days and up to 60% off purchases), eTextbooks give students the flexibility to spend money where they want. Not to mention students can take their entire library wherever they go without lugging physical books around campus - with the free Kindle reading app, students can conveniently access their eTextbooks from any device, including their tablet (Fire, iPad or Android tablets), smartphone (iPhone or Android), PC or Mac. Features that help studying easier include:

Multi-Color Highlighting – Are you one of those students that highlights every sentence in their textbooks? With multi-color highlighting on your eTextbook you can organize categories and sections by color and save all your highlights in Notebook for easy reference
Digital Notes — Notebook for eTextbooks displays all your notes, colored highlights, saved images and bookmarks in one place. You can mark and filter your most important concepts to organize when it's exam time – it's like a digital scrapbook for your studies. Notebook is available on Fire HD tablets, iPads, and Android tablets
Flash Cards – Just finished a chapter and already can't remember what you read? Flash Cards allow you to quickly review all the terms, concepts and definitions in each chapter with an easy to use interface
X-Ray – Get everything you need with a single tap, including definitions, related pages and even relevant content from other sources like YouTube and Wikipedia
Swift Navigation — With the swipe of a finger, quickly navigate through pages and chapters of eTextbooks to find the section you are looking for
Whispersync Technology — Synchronizes your last page read, bookmarks and annotations across all of your devices so you can always pick up where you left off
Textbooks Store– Amazon offers the textbooks and materials you need to ace your classes— whether it is your textbook, online access, lab manuals and study guides, Amazon is here to help! At the Textbooks Store you can save up to 80% on textbook rental, up to 40% on new textbooks, and up to 90% on used textbooks. Delivered right to your door and priced to help put some money back in your pocket for whatever you'd rather be spending it on.
Textbook Rental –With our flexible rental program, you can keep your textbooks for a semester. And when it comes time to send your books back, we`ll pay for return shipping. Rent anywhere, including on the go with mobile using at Amazon.com or in the Amazon App.