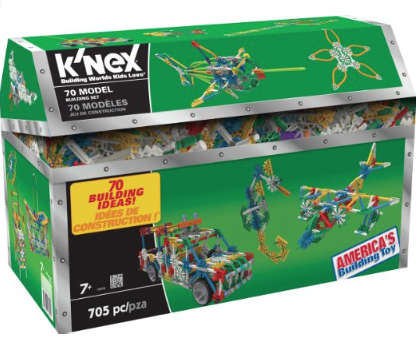 Amazon Prime members can get this highly-rated 
K'nex 70 Model 705-Piece Building Set
for Amazon's lowest ever price – just $16.88, regularly $45!
Includes 70 model building ideas!
702 pieces to build a hot air balloon, boats, trucks, a sand castle and more!
Convenient storage treasure chest to hold built figures and other K'NEX sets
Made in the USA
Recommended for builders ages 7+
K'nex are great and provide hours of imaginative play. Would make a fun gift! Get FREE 2-Day shipping with Amazon Prime or FREE Super Saver Shipping on orders of $49 or more.
Remember – Amazon prices change frequently and without notice. Please verify that this price hasn't changed before purchasing. 
???? Get

Cash back

on this purchase by using TopCashBack! Sign up here for FREE!
*Tip: Open the TopCashBack link a new window, search for the store, select it and it will open in a new window. Once this happens, you can close that window and continue shopping from where you were. Doing this will log that you are shopping through TopCashBack without losing your place!
???? Also,

Save even

 

MORE

 money with Honey - a FREE Add-on that automatically searches and applies coupons to your purchases!
*Tip: Honey is a browser extension that automatically finds and applies coupon codes at checkout on thousands of sites. But that`s not all–– Honey also instantly finds better prices on Amazon and offers cash bonuses on many stores.  It works in various browsers and take just a minute to sign up -- plus it`s FREE! When you`re on a checkout page with a promo code field, Honey will pop up and ask if you want to check for savings. Simply click the "Find Savings" button and Honey will automatically try all known coupon codes for that store (including Honey exclusives). If they find a code that works, they'll apply the one that saves you the most money to your cart. It`s that simple!